Let us guess, you're visiting Tasmania for the stunning scenery, long drives, pristine beaches, untouched bushland, a little wildlife and a lot of food and wine, right? Well boy oh boy do we have good food and wine. Our proximity to farms, vineyards and producers that deliver world-class produce, seafood, wine and spirits is what makes Tasmania a haven for the foodie in all of us.
Within walking distance from Change, you can get an exceptional feed but we recommend hiring a car to truly explore the region and get your hands on some lesser known products and brands. We share our favourites below...
Within walking distance
Breakfast
One meal you don't want to stray too far for is breakfast! So roll out of bed, pop on your shoes and stroll down George Street, just 100m from Change Overnight. This street is jam-packed with breakfast and brunch cafes, you'll struggle to choose the one.
If you like freshly baked bread and pastries, try Nook, the closest cafe to Change. For something a little healthier, our friends at Alberto's have some delicious options that are easy on the waistline. For a coffee that puts Melbourne cafes to shame, take a seat at Sweetbrew and enjoy a little people watching as you relax on your holiday. For the best selection of healthy juices and smoothies, pop into M&B Bar a little further down George St, and trust us, grab a caramel slice with that!
If you're after a great coffee or a delicious lunch, make sure you visit our friends at Inside Cafe. While you wait for your coffee, chat with their friendly barista's or have a browse at the gift shop next door, Inside Home & Gifts.
If you feel like a stroll further afield, search for Earthy Eats on your maps and you can be sure whatever you order is as equally tasty as it is healthy. Fancy feeling like you might just be in Italy for a moment? Escape to Cafe Mondello, just 15-minute walk from Change.
If you're lucky enough to be staying with us on a Saturday morning, don't miss the Launceston Harvest Market, our farmers market packed full of the best local produce, food trucks and entertainment.
Stretch the legs and take a stroll to Cimitere Street and visit Bread + Butter, next door to Harvest Market. These guys are home to Tasmanian Butter Co. - a small batch cultured butter factory and bake handcrafted pastries and sourdough bread fresh daily.
Inside Cafe, Launceston
Lunch
So you've spent the morning exploring the city, you've probably admired the local architecture, visited our City Park or maybe adventured to The Gorge, either way, we're sure you've worked up an appetite. So if you're near The Gorge, Cataract on Paterson is a Launceston favourite that specialises in showcasing local produce.
If you're after some fresh Japanese style food, a newbie on the block is Pachinko, we suggest walking off lunch with a stroll in the Quadrant Mall.
If you've got a craving for something naughtier, check out Burger Junkie. This place started out as a food van and demand was so high they had to expand. Go with a little spare change and have a play on the arcade games while you wait for your burger.
For the vegetarians and vegans among us, Veg Out is a must visit, you can't go wrong with their selection!

Dinner
There are some hidden gems among Launceston's food scene and they're best discovered by recommendation. If you haven't already checked it out, be sure to visit the Seaport, it's a scenic stroll along the river from Change and a great way to see the city at night.
There are a host of restaurant options at the Seaport, one of which is Rupert & Hound, it's new, stylish and serving contemporary Australian food - simple! If you glance across the river you can't miss the Silo Hotel, originally a 1960's grain silo. In there you will find (pardon the pun) Grain of the Silos Restaurant, again serving incredibly fresh local produce, beer and wine.
A Launceston favourite is the Metz, just a short walk along York St from Change. If you're after a good curry, you can't go past Pickled Evenings, just around the block from your room at Change.
If you've spent the day in the Tamar Valley and picked up a bottle of award-winning Tasmanian wine from a local vineyard, you'd better take your BYO and book at table at Buddah Thai, a short walk from Change.
For a premium dining experience book a table at Stillwater just across from The Gorge with a beautiful view of the Tamar River. We suggest booking a window seat, or for groups, ask about the cellar room or private dining room.

If you're scouting out premium Tasmanian beef, look no further than Black Cow Bistro. Black Cow is an upmarket steak house found in the old Luck's butchery shop, an art deco building on the corner of Goerge and Paterson Street.
If you're after a modern European menu, a relaxing space and contemporary drinks you can't miss Geronimo Aperitivo and Bar. Take a stroll through Princes Square on your way and then settle in for breakfast, lunch, dinner or drinks in the moody, sophisticated venue.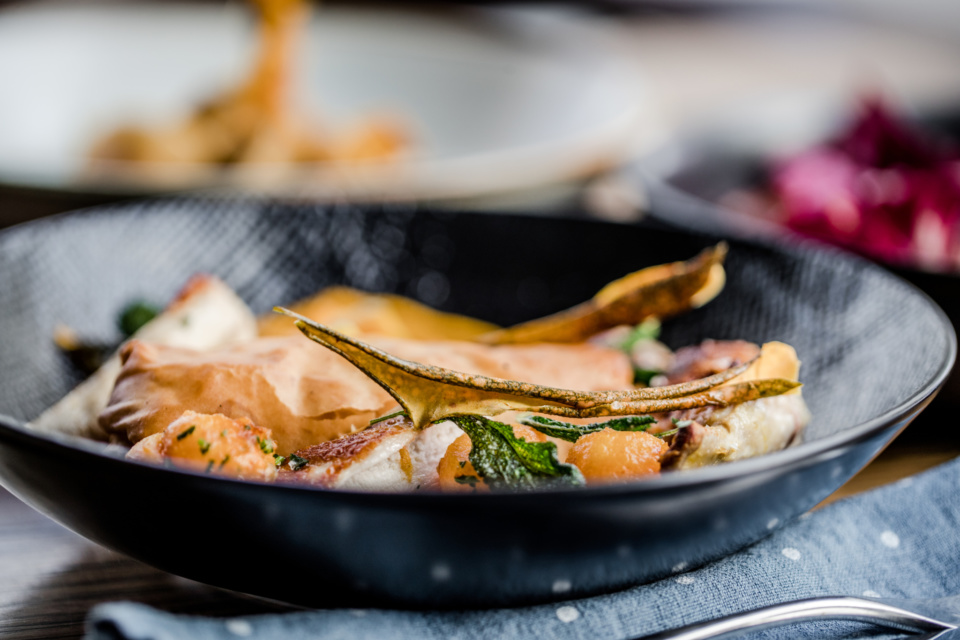 Geronimo Aperitivo Bar & Restaurant, Launceston
Drinks
It doesn't stop at dinner if you know where to go! Close by is Bar Two, a hole-in-the-wall wine bar serving the finest Tasmanian wines.
For a cocktail or speciality Gin often with live music, pay a visit to the Kingsway Bar.
If craft beer is your flavour, don't miss Saint John Craft Beer, they have an extensive range of specialty craft beers, that you can enjoy in or takeaway.

A short drive
If grazing on Tasmanian cheese over a glass of wine is just what you came for, buckle up for a 40 minute drive to Tasmanian Food and Wine Conservatory along the Cradle to Coast Tasting Trail, you won't be disappointed, but be sure to leave enough time to stop along the way for berries, cheese, fudge, olive oil, ice cream the list goes on. This is also a great stop on the way to Cradle Mountain.
If you're venturing into the Tamar Valley, make your first stop at Velo Wines and settle in for lunch at Timbre Kitchen with beautiful views overlooking the vineyard.
You'll have heard of it and you won't want to miss it so take the 20-minute drive throughout picturesque Relbia to visit Josef Chromy cellar door and restaurant - it is one of the finest food and wine experiences in Tasmania.
For a pub meal in a Georgian village, dine in for lunch, dinner or perhaps drinks in the beer garden to the Clarendon Arms.
If the beach is your scene, take a drive to Devonport, pull up a milk crate or bean bag on the grass and enjoy food from Drift as you watch the waves roll in.